Service Options

Deactivated/Retired License Search
Every week thousands of DEA numbers are deactivated or retired. DEA Lookup.com has been tracking this data since the company was founded in August of 2005.

We are now offering online search and verification of these deactivated licenses - an exclusive online service not available elsewhere.

You can also verify the full registration profile of deactivated licenses as well as the last active date when a particular license was still active and valid.

This service has many applications from validating order history to data cleansing to simply verifying that a number while not currently active was previously a good number.

How It Works

Simply search for a DEA number or search by physician name as you normally would - and select for Active Status: either Deactivated licenses or you can search both Active and Deactivated licenses at the same time

You can search Deactivated licenses by DEA number, by physician name, by physician address, and more.

Our deactivated data is updated weekly, so you know you are getting the best possible data available.

If you have questions or would like to schedule a web demonstration,
email sales@dealookup.com.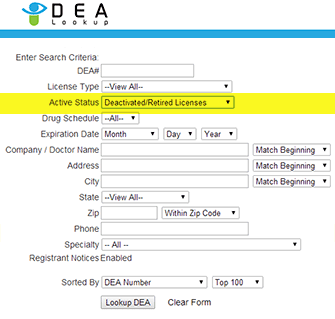 Example 1: Deactivated Search Option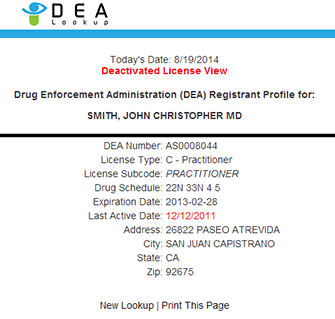 Example 2: Deactivated Search Result