Service Options

Professional State License Search
Unlike federal DEA numbers, there is no one government database in which state license numbers are stored.

For this reason, validating large numbers of state license numbers from the various 50 states and professional designations has become a major headache for many healthcare providers and transaction processors.

To solve this problem DEA lookup.com has developed the State License Lookup Professional Edition.

How it works
The professional edition is linked to well over 100 state license databases and is organized by both state and by professional designation.

Simply enter the state license number [Example 1], select the state and professional designation, and with one click you will go directly to the state license validation screen you need. [Example 2]

One Search Form
You can now validate state licenses for multiple professional designations from all over the USA with one powerful interface. Physician state license validation has never been this easy!

The professional edition is the most efficient tool available for validating large numbers of physician state license numbers.

Standard Edition Included
Each subscription to the professional edition also includes the Standard State License Lookup tool.

If you have questions or would like to schedule a web demonstration,
email sales@dealookup.com.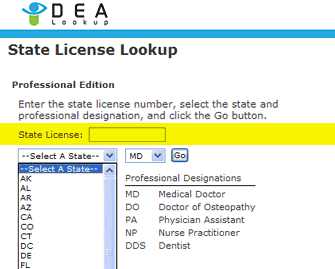 Example 1: Professional validation interface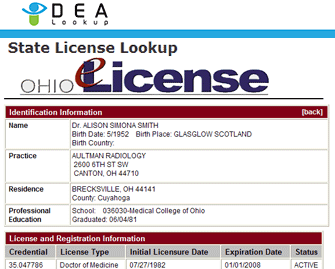 Example 2: License details are one-click away