Deborah Weinstein, Medical Marketing & Media, May 6, 2014
A quick scan of Big Pharma pipeline and earnings reports makes it pretty clear that oncology is a big deal, both in terms of future earnings and a benchmark which financial analysts often use when sizing up a company's potential revenue rebound.
Two quick examples: Pfizer and the weight palbociclib carries because of the perception that its success could determine the health of the biotech business the company may spin off after 2017; and Bristol-Myers Squibb, whose immuno-oncology push has also given it some leeway in terms of investor scrutiny.
Oncology is even a big deal for companies walking away from the field, as GlaxoSmithKline is doing as part of its Novartis asset swap in which GSK is trading in its cancer pipeline in exchange for vaccines that will beef up its portfolio.
The IMS Institute for Health Informatics did a deep dive that shows, however, that while companies are leaning on oncology, this bet also relies on the US market's willingness and ability to absorb these drugs. The class is connected with big numbers, such as the $91 billion the world spent on cancer drugs last year, with 41% of those sales coming from the US.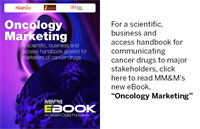 But this spend-of note in this case, the US chunk-has transpired while the US healthcare system continues to undergo a massive overhaul that goes beyond the new rush of insured patients that are part of healthcare reform. As noted by IMS, this transformation includes the emergence of Accountable Care Organizations as well as insurance plans which shift a greater portion of financial responsibilities onto patients.
Marketers are already getting familiar with the fact that ACOs assess treatment protocols with an eye on cost, but this pressure is only expected to increase as ACOs, and doctors who begin their careers in ACO-minded settings, begin to account for a larger percentage of care facilities.
Doctors have also shown a willingness to push back, as seen by Memorial Sloan Kettering's ability to push Sanofi and Regeneron to offer a discount before agreeing to use the colorectal cancer medication Zaltrap. Their reason: the drug cost far too much and did not have a significant advantage over what was already on the market.
Patients have also resisted prices, albeit in a less direct manner: IMS found that insurance plans in which patients pick up a significant cost can trigger non-adherence. IMS also found that a relatively low threshold-co-pays of between $30 and $90-are enough to halt regimen fidelity.
While the recent spate of upward trends back continued demand-the global oncology spend was $71 billion six years ago, and $31 billion in 2003-healthcare pricing is an issue, even when it's a matter of life extension or arguments made about short-term spend with the promise of long-term savings.
Gilead HCV medication Sovaldi's $84,000 price tag has been a recent flashpoint for this discussion, but IMS shows the cancer field's costs are in the same realm, with breast cancer drug Perjeta costing around $110,000 as a first-line treatment, and first-line unresectable or metastatic melanoma drug Yervoy coming in at around $117,648.
While the health infrastructure and Big Pharma work out just how medications may be covered, companies have already sunk money into oncology's future.
IMS reports that 30% of preclinical and Phase-I R&D is focused on oncology, with a relative few expected to make it into Phase II or Phase III testing. The fail rate, however, belies an additional struggle, which is that incremental improvements are not necessarily sufficient to tip a successful, approved drug into blockbuster territory, and that increasingly targeted treatments, which are also effective, are successful for discrete patient groups, which can further crimp potential sales.
The immediate expectation is that oncology will continue to dominate cost and care conversations. IMS expects oncology will be the top medical category for developed countries in 2017, beating out diabetes, anti-TNFs and pain medications. Plus, the projected outlay, which IMS estimates will hover between $74 billion and $84 billion, does not include the cost of supportive services which go along with cancer care.
The field will also have financial play in emerging markets like China, Brazil and India, but ranks fourth on projected spend in 2017, coming in behind antibiotics, CNS drugs other than pain drugs, and then pain medications. This fourth-tier priority is expected to translate into between $17 billion and $20 billion in emerging market sales, approximately the same amount mature markets are expected to spend on cholesterol medications (12th, behind antibiotics).
Return to News Home